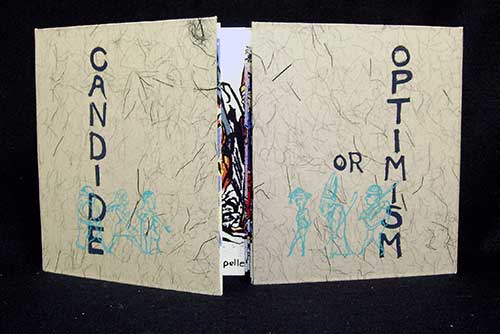 Candide
Art Hazelwood created this book for the exhibition 'Banned and Recovered' at the San Francisco Center for the Book in 2008.

When the original book was published in 1759, Candide was denounced by both church and state. In its first year the Great Council of Geneva and the administrators of Paris had banned it, but the book succeeded in selling 20,000–30,000 copies. In 1762, Candide was listed in the Catholic Church's list of prohibited books.

The book opens to reveal Candide and Cunegonde kissing behind a screen of roses in the castle where they both grew up – "The Best of All Possible Worlds." Thus begins the story of all the tragedies of their lives. When the accordion folds are pulled out a trail of rape, murder, inquisition, thievery, slavery and sea battles is presented. In the very center a peaceful scene of Candide in Eldorado: a place where people live in peace, a momentary respite from the insanity of European expansion and colonization. Along the bottom of the imagery is text from the book with the final bit of wisdom discovered after all the disasters, "We must cultivate our own gardens."

Candide or Optimism, 2008, edition of 15, screenprint, closed size: 7 3/8" x 12 1/2" x 1/2", open size 7 1/4" x 72", binding: gate fold hardcover, cover paper: various, marbled endpapers, thirteen pages, book body paper: Lana Cover White.