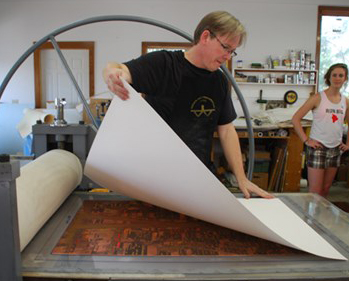 Art Werger's prints show a keen observation of quiet and normally unnoticed moments. Pedestrians passing each other, lost in their own worlds. Sunlight filtering through a garden landscape, or the reflection of lights on wet pavement after a storm.
His prints are masterful at capturing a mood, and suggesting a story for the viewer to complete. In a totally different vein, his color etchings play with the effects of light. His prints of swimmers show an uncanny ability to create the shimmering play of light underwater on a summer day.
Werger has received over 250 awards in national and international exhibitions. In 2015 he recieved the Guanlan International Printmaking Prize at the Guanlan Biennial in China, followed by the Grand Prize at the Ekaterinburg mezzotint festival in Russia. In 2012 he received the Award of the Rector at the International Print Triennial in Krakow, Poland and the Prize for Full Correspondence between technique and Imagery at the First International Mezzotint Festival in Ekaterinburg, Russia. He currently teaches printmaking at Ohio University, in Athens Ohio. Previously he served at the Chairman of the fine Arts division, and as professor of Art, at Wesleyan College in Macon, Georgia.