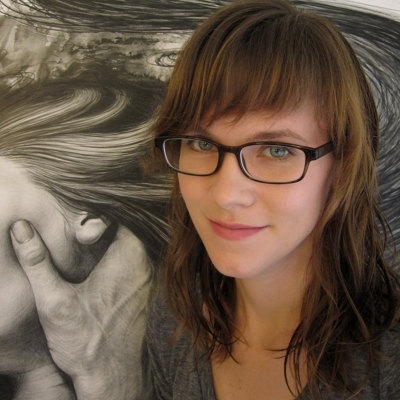 Carrie Lingscheit's original intaglio prints exploit the subtleties of etching and mezzotint technique to explore themes of human behavior, interaction and the malleable nature of remembrance, presenting equivocal narratives that are often characterized by omission, distortion, and hyperbole. Her work has been included in numerous national and international exhibitions and in dozens of invitational exchange portfolios. Recent exhibitions include the 3rd International Mezzotint Festival in Ekaterinburg, Russia; and the 2017 Washington Printmakers National Small Works Juried Exhibition in Washington DC. Lingscheit holds a BFA from The University of South Dakota (2006) and MFA from Ohio University (2010.) She currently lives in Chicago, IL.

Artist Statement:
"Human experience is plagued by an inherent incompleteness—both perception and memory being naturally imperfect, undeniably inexact. It is in our nature to yearn for completion, for narrative wholeness—to seek to fill in the gaps. Craving familiarity, we long to connect ourselves with other people through shared experience. Memories expressed by one person may reanimate long-forgotten details and events for others as their minds strive to forge these connections and to satisfy these voids.
We rarely remember neutral moments, only those that register as significantly positive or negative. I am fascinated by the notion of the gaps left by these absences of information, these holes within the structure of our past and present lives. My work alludes to this intractable nature of perception and remembrance, creating open-ended narratives that invite a visceral response from the viewer, and seek to agitate or reanimate memories that have perhaps been long-still."