Carolyn Muskat
The following series of prints featuring tools are from signed but un-numbered editions. There were no more than 20-25 printed for each image.
Size of the edition was limited to what the artist can print each year during a one-day fundraising event for the Museum of Printing in Haverhill, MA.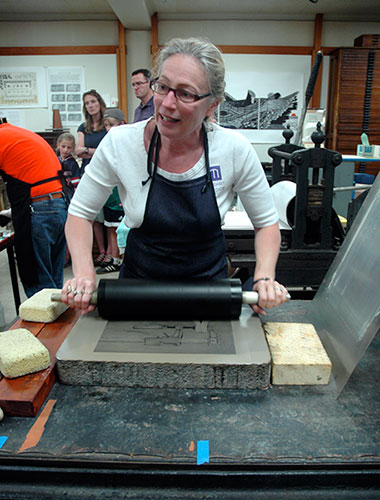 Carolyn Muskat (printmaking/papermaking) is the owner and master printer of Muskat Studios, a professional lithography studio in Somerville, Mass. She holds a BFA in Painting and Printmaking from Carnegie Mellon University and is a Tamarind Master Printer. Her work has been featured in solo and group exhibitions across the country. Muskat is a visiting faculty member at the Museum School, The Art Institute of Boston at Lesley University, and Massachusetts College of Art and Design. She is currently president of The Boston Printmakers.